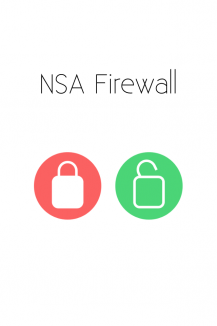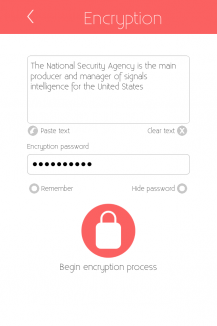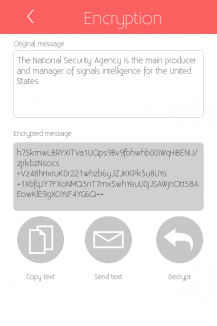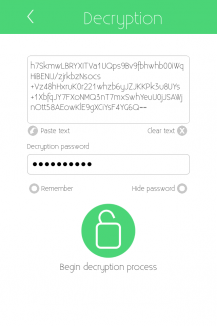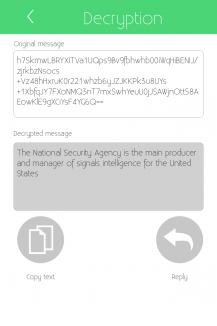 With the NSA firewall, you can encrypt and decrypt any text. You can send these encrypted messages via text-message, WhatsApp for Facebook with no hassle. The recipient can only read the message, if he/she knows your secret password. If somebody should intercept the message, all he gets is gibberish.

Step-by-step instructions
1) Enter text, e.g. "This is a secret!"
2) Enter desired password, e.g. "Zahd&182"
3) The app decrypts your text with the password.
You'll get something like:
8B3oHbLlqf/4IoawfAO9UQ==
4) Send this message to your friend.
If somebody intercepts the message, he won't be able to read it.
Your friend can decrypt the message by entering the secret password "Zahd&182".

Further Details
Of course, the recipient must have the secret password, otherwise he won't be able to decrypt the message. You should always tell the password to the recipient in person, so it can't be intercepted. The secret password is NOT stored on our servers.
Encrypting messages before sending them makes it harder for espionage and other government agencies to read, than just sending them unencrypted. However, this app cannot guarantee 100% secure communications.
Of course, this app can be used to send messages not everybody is supposed to read (e.g. your wife, your boyfriend or your mother).

Technical Details
We use the 128 bit AES-Process to encode messages.
What Wikipedia says about AES: "The Advanced Encryption Standard (AES) is a specification for the encryption of electronic data established by the U.S. National Institute of Standards and Technology (NIST) in 2001."
Have fin with the app!





More Apps
About us
The idea of creating an own app appeared to me on a train ride with such miserable internet connection that the documentation of xCode unavoidably had to serve as reading material. And with that the first idea for an app was born: Mia with a fake button, a dice game with a cheating mode.
In the meantime, there is whole team sitting behind the apps, developing more than 100 apps for iPhone and iPad and uploading them into the iTunes Store. Even in the Android world you can find some gimmickry. Whether there's a virtual pet living in your mobile phone, football gamblers competing against each other and the results, paper plane instructions being used in a restaurant, serving the perfect Sunday breakfast egg or filling your brain with some not so unnecessary knowledge, the apps are fun and enrich the drab monotony of everyday life. Regular Top Ten rankings in the App Store, right up to #1, show that the ideas have the finger on the right pulse.
The creative head behind the Lochmann Apps is Benjamin Lochmann, who is known to be a passionate computer programmer and at the same time the CEO of the Benjamin Lochmann New Media GmbH.