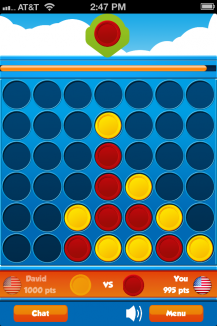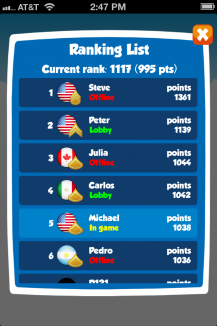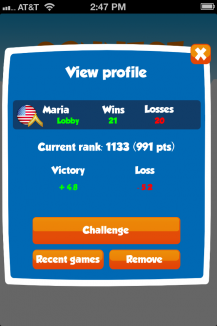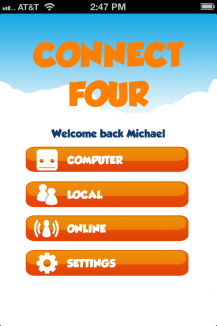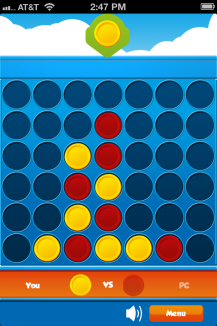 Play "Connect Four" against the computer or friends from all over the world!

"Connect Four" is one of the most popular strategy games in the world, this app gives you three different game modes.

Details

"Connect Four" is a game classic for two players. Goal of the game is to connect four discs of your color to a horizontal, vertical or diagonal line. Alternating, you and your opponent drop discs into the grid and try to complete a line of four discs against the computer, friends or strangers from all over the world!

We've packed the beloved strategy and tactics game in a free app, which features three game modes:

- Singleplayer: Play alone on one device against the computer Here you can learn "Connect Four" or train your strategy and tactics. Three difficulties help you in doing so.

- Local Multiplayer: Singleplayer rules apply. The game is played on one mobile device. Try to beat a friend with logic by tapping on the columns and connecting four of your discs in one line.

- Online Multiplayer: Play the classic against "Connect Four" players all over the world. Play on more than one device, given your opponent also has the free app.


More details

The online multiplayer mode has some great features for you:

- Every online victory earns you points.

- If you win an online game of "Connect Four" against an opponent, who has accumulated a lot of points, you'll get an accordingly higher score.

- The higher you score in games of "Connect Four", the higher you climb on the leaderboards.

- You can start chats to talk with people all over the world, analyze your moves or just chitchat.

- An online friend list makes it possible to invite your friends to a round of "Connect Four" without charge.

- Our free "Connect Four" app is available worldwide. You can play against opponents all over the world online to show your logics and tactics skills, by connecting your 21 discs to a line of four before your opponent.

- You can always see which country your opponent is from.

We hope you like our free "Connect Four"! And we're always happy about feedback (also critical) on our free online strategy game. Just send an email to our support address. Have fun playing "Connect Four"!





More Apps
About us
The idea of creating an own app appeared to me on a train ride with such miserable internet connection that the documentation of xCode unavoidably had to serve as reading material. And with that the first idea for an app was born: Mia with a fake button, a dice game with a cheating mode.
In the meantime, there is whole team sitting behind the apps, developing more than 100 apps for iPhone and iPad and uploading them into the iTunes Store. Even in the Android world you can find some gimmickry. Whether there's a virtual pet living in your mobile phone, football gamblers competing against each other and the results, paper plane instructions being used in a restaurant, serving the perfect Sunday breakfast egg or filling your brain with some not so unnecessary knowledge, the apps are fun and enrich the drab monotony of everyday life. Regular Top Ten rankings in the App Store, right up to #1, show that the ideas have the finger on the right pulse.
The creative head behind the Lochmann Apps is Benjamin Lochmann, who is known to be a passionate computer programmer and at the same time the CEO of the Benjamin Lochmann New Media GmbH.