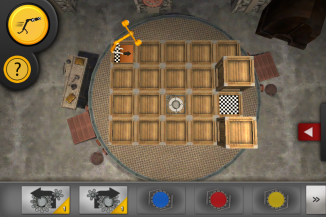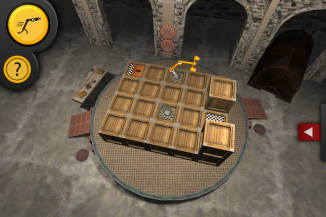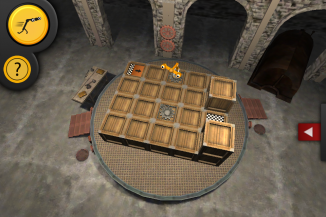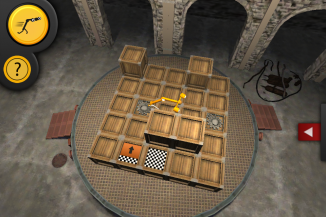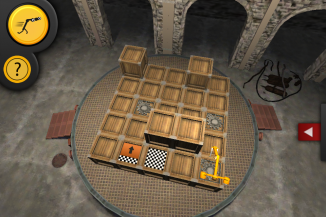 Help Gearald the loveable robot to find a way through crazy levels and tricky mazes!

Gearald is a first generation robot, simply designed to walk straight forward. You can program him by placing triggers and teleporters and by combining colors to get to the goal.

In every level, you get various buttons and fields. Place them cleverly, observe the environment and see if your plan works and Gearald makes his way to the goal. Also, make sure not to use too many switches to get the full score.

At first, you'll work with direction-altering fields. As soon as Gearald hits one of those, he'll change direction. During the course of the game, you'll get more and more fields / triggers:

Color Switch: Raises or lowers fields of that specific color.
Teleporter: Teleports Gearald to another teleporter in the level.
Time Switch: Raises or lowers linked fields once.
Bombs: Destroy passed boxes.
Level for level will become more challenging. A special feature allows you to peek at the optimal walking path. But use this feature wisely, because you only have limited use. Plus, an in-app purchase removes ads and adds more levels!
Gearald is sure to provide long-lasting puzzle-fun and will make time fly by. Are you clever enough to solve all the levels?

About us
The idea of creating an own app appeared to me on a train ride with such miserable internet connection that the documentation of xCode unavoidably had to serve as reading material. And with that the first idea for an app was born: Mia with a fake button, a dice game with a cheating mode.
In the meantime, there is whole team sitting behind the apps, developing more than 100 apps for iPhone and iPad and uploading them into the iTunes Store. Even in the Android world you can find some gimmickry. Whether there's a virtual pet living in your mobile phone, football gamblers competing against each other and the results, paper plane instructions being used in a restaurant, serving the perfect Sunday breakfast egg or filling your brain with some not so unnecessary knowledge, the apps are fun and enrich the drab monotony of everyday life. Regular Top Ten rankings in the App Store, right up to #1, show that the ideas have the finger on the right pulse.
The creative head behind the Lochmann Apps is Benjamin Lochmann, who is known to be a passionate computer programmer and at the same time the CEO of the Benjamin Lochmann New Media GmbH.